Low Cay is the main beach at GoldenEye—500 smooth, sandy feet of beach shaped like a croissant. It's so wide and sprawling, it can sometimes feel like its own private, deserted island. While Button Beach—our rustic beach that's home to a bar shack—is as adorable as its name implies. Our water sports guides, helpers and instructors are trained lifeguards and skilled sailors. They will assist with beach towels, kayaks and glass-bottom boats. If you're into swimming with the fishes, head to Snorkeler's Cove—that's where you can grab a snorkel and fins before exploring one of the many coral reefs close by.
KAYAKING
GoldenEye's varied shoreline lends itself to exploration by kayak. Depart from Wata Sport Beach.
STAND-UP PADDLEBOARDING
The fast growing sport of stand-up paddle boarding is a wonderful way to enjoy our lagoon, Oracabessa Bay and the open sea beyond.
SAILING
Learn how to sail with our certified Wata Sports team at Button Beach. Navigate the Caribbean Sea on one of GoldenEye's Sun Fish or Hobie Cat sailboats.
SNORKELING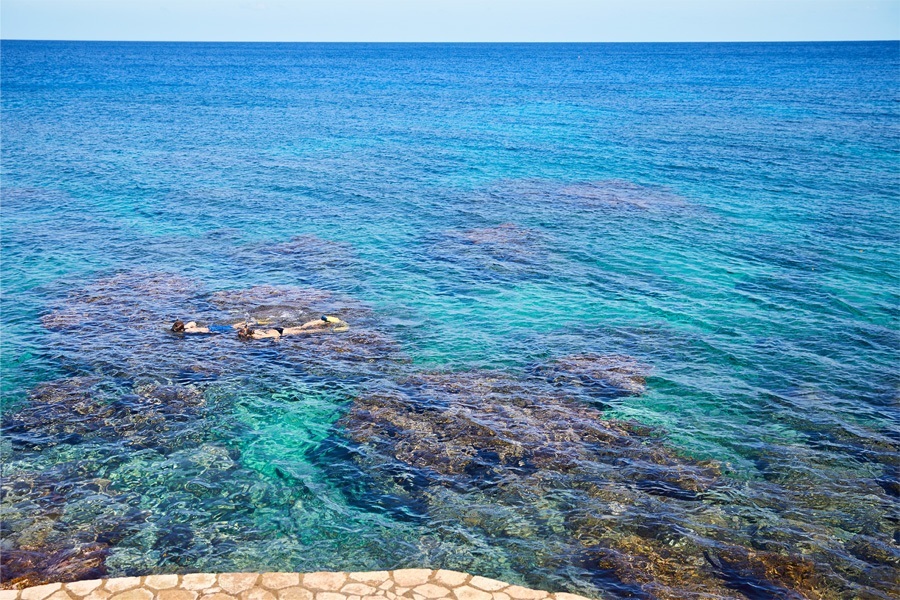 The warm, clear GoldenEye waters are surrounded by extensive coral gardens. Equipment is complimentary. Check out a GoldenEye fish guide from Wata Sports before you depart.
SWIMMING POOLS
The best pool at GoldenEye is the Lagoon: think of it as a 250-meter pool! Part seawater and part fresh spring water, the Lagoon is always warm, always clear and almost always completely tranquil. It's ideal for either splashing around or swimming laps.
Additionally, there are fresh-water swimming pools at the Bizot Bar and at Shabeen. The GoldenEye salt water splash pool (yes, it's shaped like an eye) is at the very tip where Low Cay Beach extends to the sea.